2023 Joint 74th ICCP and 39th TSOP Meeting
17th – 24th September 2023
Conference & Cultural Center of the University of Patras, Rio-Patras, Greece
Theme of the Meeting
"Organic Petrology in the Energy Transition Era: challenges ahead"


Welcome

  note
In the past Greece has hosted twice the ICCP family in the meetings of 1993 in Chania, Crete, and 2005 in Patras. However, our world has changed significantly the last decade, and we are nowadays moving within "uncharted waters" facing challenges that affect also our scientific discipline.
Within this framework the Organizing Committee is having the pleasure to host for a first time in Greece a joint Meeting of The Society of Organic Petrology (TSOP) and the International Committee for Coal and Organic Petrology (ICCP). We anticipate providing a unique forum for members of both Organizations to interact in a week-long meeting to discuss and exchange ideas, and thus contributing to the future of Organic Petrology under the main Theme:
Organic Petrology in the Energy Transition Era: challenges ahead
The Meeting is organized by the Department of Geology, University of Patras, from 17th to 24th of September 2023, in the Conference & Cultural Center of the University of Patras, in Rio, a suburb of Patras, Western Greece. This period of time is very favorable, as it is just after the high-holiday season, with still a marvelous weather.
Therefore, we look forward welcoming you in Patras for a fruitful meeting and enjoyable field trips across Ionian Islands and Western Greece.
Stay tuned, as the website is updated!
For the Organizing Committee
Kimon Christanis, Chair
Stavros Kalaitzidis, Executive Secretary
For any queries please contact: skalait@upatras.gr
Organizing Committee
Chair: em. Prof. Dr. Kimon Christanis, Department of Geology, UPatras
Executive Secretary: Assoc. Prof. Dr. Stavros Kalaitzidis, Department of Geology, UPatras
Members
Prof. Dr. Andreas Georgakopoulos, Department of Geology, AUTH
Prof. Dr. Nikolaos Pasadakis, Institute of Geoenergy, FORTH
Dr. Aristofanis Stefatos, Hellenic Hydrocarbons and Energy Resources Management Company – HEREMA
Dr. Ioannis Oikonomopoulos, HELPE UPSTREAM S.A.
Dr. Dimitrios Rallakis, Department of Geology, UPatras
Dr. Stefanos Papazisimou, Directorate of Environment and Spatial Planning, Region Western Greece
Dr. Nikolaos Koukouzas, Chemical Process and Energy Resources Institute, CERTH
Mr. Markos Xenakis, Hellenic Survey of Geology and Mineral Exploration
Scientific Committee
Dr. Carolina Fonseca, Federal University of Rio de Janeiro, Brazil
Dr. Thomas Gentzis, Core Laboratories, USA
Dr. Paul Hackley, USGS, USA
Prof. Dr. Ali Ihsan Karayiğit, Hacettepe University, Turkey
Prof. Dr. Polla Khanaqa, Kurdistan Institution for Strategic Studies and Scientific Research, KRG-Iraq
Dr. Grzegorz Lis, University of Wroclaw, Poland
Prof. Dr. João Graciano Mendonça Filho, Universidade Federal do Rio de Janeiro, Brazil
Dr. Ioannis Oikonomopoulos, Hellenic Petroleum S.A., Greece
Dr. Henrik I. Petersen, GEUS, Denmark
Dr. Joana Ribeiro, University of Coimbra, Portugal
Dr. Sandra Rodrigues, The University of Queensland, Australia
Prof. Hamed Sanei, Aarhus University, Denmark
Dr. George Siavalas, Shell Global Solutions International B.V., The Netherlands
Dr. Bruno R.V. Valentim, University of Porto, Portugal
Dr. Nicola J. Wagner, University of Johannesburg, South Africa
Dr. Małgorzata Wojtaszek-Kalaitzidi, Institute of Energy and Fuel Processing Technology, Poland
Dr. Lei Zhao, China University of Mining and Technology, Beijing, China
Prof. Dr. Dragana Životić, University of Belgrade, Serbia
Schedule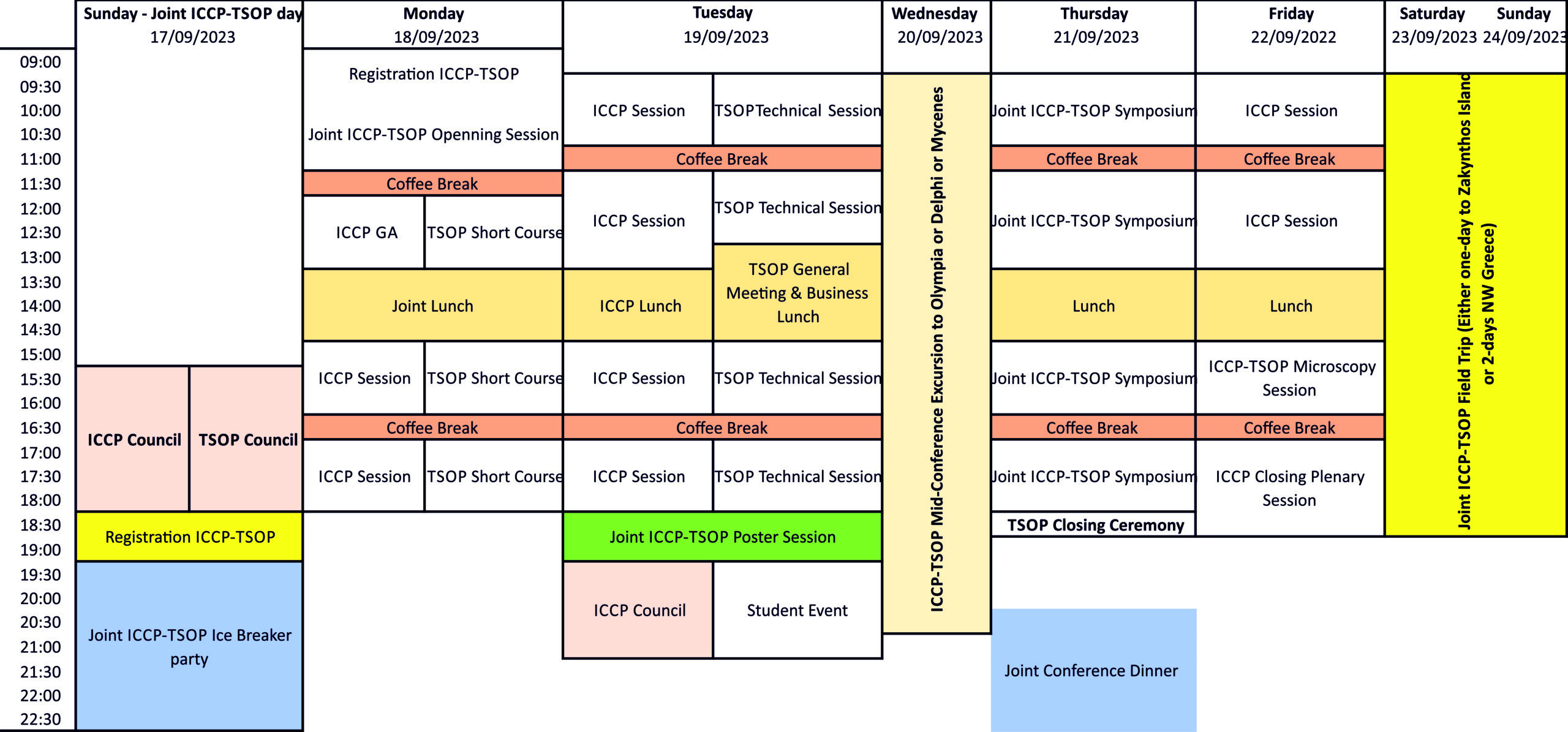 2023_ICCP_TSOP_Draft_Schedule
Short Course Theme
Organic Petrography in support of environmental studies: History, State of the Art and Future Opportunities
A TSOP short course will take place on Monday 18th of September 2023 addressed for professionals and students.
Dr. George Siavalas & Dr. Małgorzata Wojtaszek-Kalaitzidi
Topics will include
Introduction, scope, sample preparation & analytical techniques.
Petrography of industrial & manufactured materials; environmental concerns & applications.
Petrography of organic matter in soils and recent sediments.
Tracing contamination sources, mitigation strategies and monitoring; nature-based solutions to net-zero carbon emissions
Case studies.
Registration
Registration is now open, please follow the link: online registration
Types of Registration
Category
Early Registration
before 15th of June 2023
Late Registration
after 15th of June 2023
ICCP/TSOP Member
300 €
340 €
Non-Member
340 €
380 €
Student*
100 €
140 €
Accompanying person
70 €
Symposium Only
Professionals
100 €
140 €
Student*
60 €
* Proof of Student enrollment required (please download the form and send to skalait@upatras.gr).
Additional Events
Short Course
Professionals 60 € 
Students        20 € 
Dinner
90 €
Mid-Conference Excursion*
80 €
One-day Field Trip Keri Mire**
110 €
Two-day Field Trip N. Greece***
265 € 
Please Note:
Registration fee includes: Ice-breaker party, Participation in All Sessions and Symposium, coffee breaks and luncheons, Book of Abstracts.
Registration fee for the Joint Symposium on 21st of September only, includes: Participation, coffee breaks, one lunch.
Registration fee of accompanying persons includes: participation in Ice-breaker party, coffee breaks and luncheons during the week at the venue, plus a dedicated tour in Patras Highlights on Tuesday 19th of September.
*Mid-Conference Excursion to Delphi or Olympia: The fee includes transport by bus, tickets to archaeological sites and lunch.
** One-day Field Trip Keri Mire: The fee includes field guide, transport by bus, ferry, and lunch.
***Two-day Field Trip N. Greece: The fee includes field guide, transport by bus, tickets for cultural visits, accommodation on 23rd of September, and meals. Participants will have the option to end the trip in Athens or Patras.
Minimum number of participants for each field trip: 30 persons.
More information on the field trips will be available soon.
Cash payment during the Meeting is possible at Desk in Euro only. Please contact the Organizing Committee for further details (skalait@upatras.gr).
Fieldtrips
1-day Field Trip in Keri mire, Zakynthos Island, Saturday 23rd of September 2023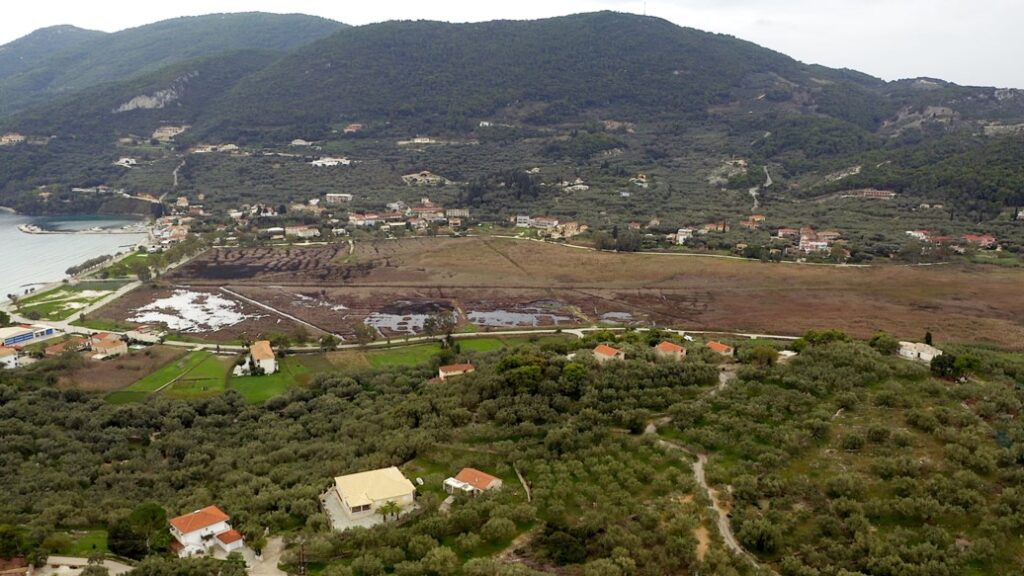 The field trip will start on Saturday early morning from Patras towards Zakynthos Island to visit the Keri Mire and to discuss on modern peat-forming environments in a paralic setting. Keri Mire is also famous for its natural asphalt seepages. After a short sightseeing downtown, the return to Patras is estimated around 20:00.
2-day Field Trip in Western and Northern Greece, Saturday 23rd and Sunday 24th September, 2023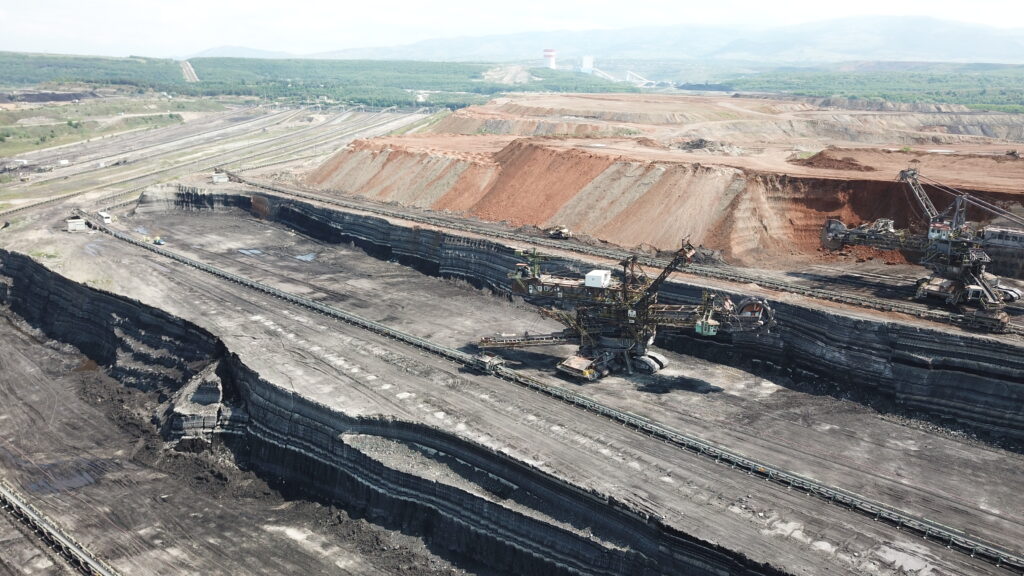 In the first day we will visit outcrops of HC source rocks in Western Greece, focusing on the Mesozoic Formations of the Ionian Unit. The second day will be dedicated to the Lignite-bearing Sequence of Ptolemais in Western Macedonia, by visiting the active lignite mines of Public Power Corporation S.A. in Ptolemais Basin.
The field trip will start on 23rd of September early morning from Patras, with the return to Athens, on 24th of September 2023, late evening.
Venue

Conference and Cultural Centre, University of Patras
University Campus, Rio-Patras
Please note the University Campus is located about 7 km from the city center.
There are regular buses, and the cost of a taxi is about 8 Euros one way (about 15-20 min drive).
Call for Abstracts
The organizing committee of the Joint 74th ICCP and 39th TSOP Meeting invites all interested participants to submit abstracts of their research activities for the TSOP Technical Sessions and the Symposium on Organic Petrology in the Energy Transition Era: Challenges ahead.
 Main Themes for TSOP Technical Sessions (Tuesday 19/9/2023)
Peat and Coal as Tracers of the Past: Palaeoenvironmental and Palaeoclimate Evolution
Organic Petrology and Geochemistry of Conventional and Unconventional Hydrocarbon Systems
Coal Basins and Critical Metals Exploration
New Trends in Coal Mining and Resource Assessment
Main Themes of the Symposium (Thursday 21/9/2023)
Organic Petrology in the Net-Zero Carbon Economy
Emerging Applications of Organic Petrology and Geochemistry
Environmental Aspects of Fossil Fuels Exploitation
Industry-related Applications of Organic Petrology
Poster presentations
A poster session will be also organized on Tuesday 19th and Thursday 21st of September 2023.
Posters shall be printed, with max size A0 (120 cm Width, x 85cm Height).
Authors are asked to prepare and submit abstracts using the abstract submission template by following the instructions therein.
Abstracts will appear in the Abstract Book only upon registration of at least one author.
Please submit your abstract before

NEW DEADLINE 9th July 2023

  to (Max 8 MB) :
Traveling to Patras
The city of Patras is in NW Peloponnese and can be reached by:
Air flights:
International Airport of Athens "Eleftherios Venizelos".
Airport of Araxos for occasional charter flights (about 30 km west of Patras).
Ship connection:
Regular connections every week from the Italian ports of Angona, Brindisi and Venice to the city of Patras.
For information on how to reach Patras from Athens International Airport please download the Travel Guide to Patras.
Car Rental: A special offer for participants who will like to rent a car during their stay in Patras has been arranged with Araxos Car Rental. Select " JOINT ICCP-TSOP MEETING" in Pickup Location.
Accommodation
The participants shall arrange their own accommodation in Patras. However, the Organizing Committee has made special arrangements with the following hotels:
*Please use the code ICCP-TSOP or the 2023 Joint ICCP & TSOP Meeting Patras in any correspondence regarding reservations.
The above prices will be valid for reservations till 30th of June 2023.
VISA support
Participants requiring visas must initiate the application process many months in advance of their departure date. For details that apply specifically to your country, please visit the website of the Greek Ministry of Foreign Affairs.
If you need a personal letter of invitation to attend the 2023 Joint 74th ICCP and 39th TSOP Meeting, please download and fill in the Visa Support Form below:
and email it to skalait@upatras.gr
Please provide your complete mailing address so that the signed letter of invitation can then be mailed to you via standard mail service.
Note: The Organizing Committee cannot intervene in the visa application process on your behalf at any Greek Embassy or Consulate office abroad.
Sponsors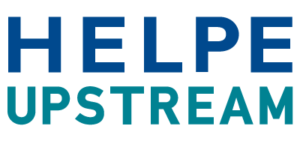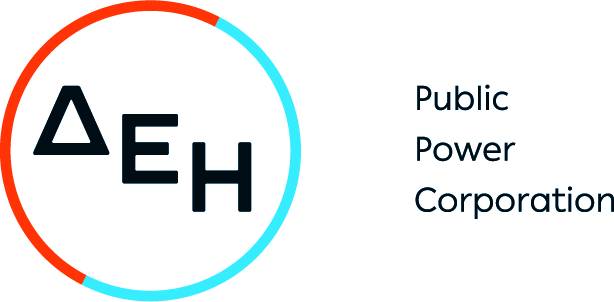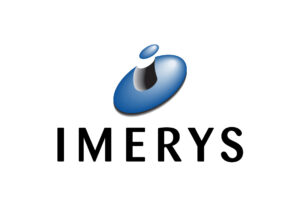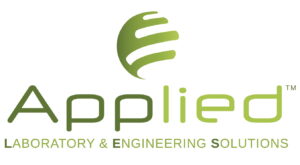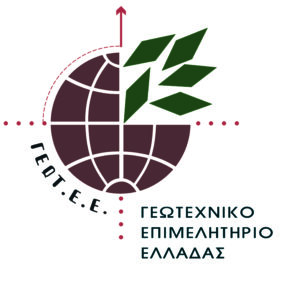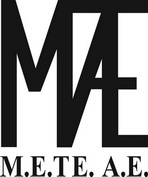 With the Support of