Concentration of Organic Matter
April 5, 2015

Filled under

Com II
Status
finalized
established
(reactivated) in 2007
Conveners
Members
Aim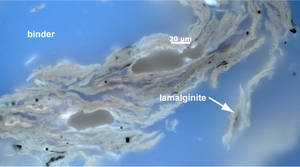 The effect of the isolation procedure on organic matter optical properties has been a past objective of ICCP round robin exercises. A review by Angeles Borrego of exercise results demonstrated that some questions remain open. Therefore a reactivation of the concentration working group activities was decided at the 2007 ICCP Meeting in Victoria.
Objectives
The main objective of the Organic Matter Concentration WG is to determine the effect of the isolation procedure on organic matter optical properties. This effect is being studied in relation to the maturity of the organic matter and the organic matter type.
A first exercise consisted of analysis of two samples containing terrestrial organic matter in order to minimize the difficulties for vitrinite identification. Subsequently samples from other origins were considered. The analyses performed were:
Vitrinite reflectance of the whole rock sample
Vitrinite reflectance of the kerogen concentrate sample
Spectral fluorescence analysis of liptinite in the whole rock and kerogen concentrate sample.
A detailed report on the results from the first round robin on primarily terrestrial organic matter is available in ICCP News 45 (2008).
After discussion on the best way to proceed with activities it was accepted to use the same analytical approach for samples of marine origin. After another successful round robin (results available in ICCP News 49), working group results were published in the International Journal of Coal Geology in 2010.
In 2010 the WG first considered Type III organic matter from lacustrine environments, completing an evaluation of the effects of concentration on the three principal types of organic matter.
Building on results from the past years, the 2013 round robin exercise  in this working group will use four low maturity samples characterized in the previous exercises, including oil shales from the Green River Mahogany Ledge in USA, Benin-Flank Basin in Nigeria, the Vale das Fontes Formation in the Lusitanian Basin, Portugal, and the Tremembé Formation in the Taubaté Basin, Brazil. Participants will examine the samples before and after kerogen characterization and measure the corrected fluorescence spectra of multiple liptinite macerals. This is important because the previous exercises of the WG have suggested that the kerogen concentration procedure may significantly impact liptinite fluorescence properties such as causing a spectral red shift.
Interested persons who wish to participate in the 2013 round robin are encouraged to contact João at graciano@geologia.ufrj.br. It is necessary that participants have microscope equipment capable of determining fluorescence spectra, which must be corrected by calibration with the Baranger lamp available from Carla Araujo at carla@petrobras.com.br. Participants will be required to return images of the measured subjects along with their spectral results.
Files
Files are available upon login